Welcome to the Spokane Model T Club Website
Chapter of the

Model T Ford Club of America

&
Model T Ford Club International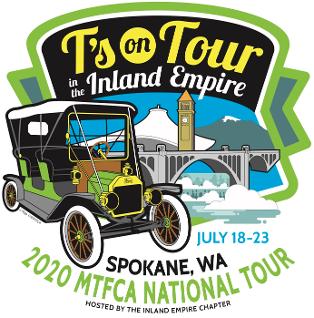 IF YOU MADE RESERVATIONS AT
NORTHERN QUEST RESORT FOR 2020
PLEASE REMEMBER TO CANCEL THEM!

If you would like to be added to our e-mail list,

If you registered for the 2020 Tour,

you are already included on the email list.

Watch this space for new dates!
2021 MTFCA National Tour
Spokane, WA
<<<<<<<<<<<<<<<<<<<<<<<<<<<<<<

We are sad to announce that the Model T Ford Club of America has decided to cancel the 2020 National Tour in Spokane. With so many unknowns regarding the status of the pandemic, the ability of people to travel to Spokane, and the activities that will be allowed in Washington State in July, it seemed the best course of action to cancel for this year. We will be sending out full refund checks to everyone who is registered over the next few days.
We are happy to announce that the 2021 National Tour will be held in Spokane! We will be selecting new dates soon for next July. When we do, we will post new Registration Forms and an updated itinerary.
We are truly sorry that we could not see everyone and tour this summer, but we hope to see you all next year!

*On that note here is some additional information for you:

We had a question from a person who had registered for the 2020 tour: Can I have you keep my tour fees and register for the 2021 tour?
The answer is: Yes you can!
We are agreeing to do this with the understanding that our tour fees may need to change, as we have no way to predict what will happen with our expenses–-especially the cost of food. We do not have dates for the tour yet, but we are planning for July, perhaps a little earlier in the month than it was this year.
If you would like to reserve your spot for next year's tour early, we will be happy to transfer this year's registration information and fees to next year's tour. When the new registration forms are available, we will ask you to complete one so that our records are current, and pay any additional funds needed if we are forced to increase our fees.
If you would like to take advantage of this early registration or have any questions, just send Janice an e-mail or give her a call. If she doesn't hear from you, she will begin mailing refund checks on Wednesday, May 13th.
One other thing to note, we hear from Steve Chase that there is a west coast tour this year that has not been canceled: The Golden Gate Tour in Mill Valley, California, will be held from June 1st to June 6th – and it's not too late to register! For more information about this tour CLICK HERE

If you have any questions, please don't hesitate to contact us. You can
CLICK HERE
to send us an email.
If you have information that you would like posted or have any questions, CLICK HERE to contact us.
See the Calendar of Events page for more information about our other upcoming events...
THE 2020 MONTANA 500 IS ON! CLICK HERE FOR THE LATEST INFORMATION.

No meetings or events for the time being.
The Safe-T Inspection will not take place in May, but we hope will be rescheduled for a later date.

Last year in May
we were wishing

Nan Robison
a

Happy Retirement!

Winner of the 2011 MTFCA Golden Mouse Award

Best Website