The last time I looked, not all of the snow was gone from the top of Mount Spokane, but Spring has definitely arrived at lower elevations!
The pandemic has made our summer plans a little less certain, but we do hope to be able to share the beauty of the Inland Empire with you in July.

This picture was taken on the road to Green Bluff--our Sunday destination--last July, just to give you an idea of what we would like show you...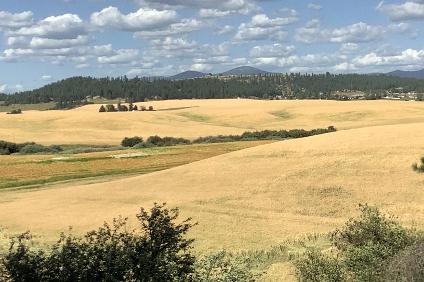 There are far more things to do
in the

Inland Empire
than we can fit into 5 days of touring!
We have found a number of events
that might have you wanting
to come a little early
or stay a little longer...

The pandemic may change the
scheduling of some of these events.

We'll do our best to keep updating
this information as our phased

re-opening continues.

Just a side note about the Discover Pass...
Parking at Washington State Parks requires a Discover Pass. One Discover Pass covers your car and all of its occupants. The cost is $10 for a one day pass, or $30 for unlimited use for a year. In some places passes can be purchased at the ranger station on site, but for some places you will need to make your purchase ahead of time at:
www.discoverpass.wa.gov/
The Tour will not stop at any place that requires you to have a Discover Pass, but there are a number of places that you may want to visit on your own that will.
On Sunday's tour, our lunch stop will be at a lodge part way up Mt. Spokane. The more adventurous may wish to continue up the mountain to Summit Road and Vista House at the top, and this will require a Discover Pass. If you are going the top, we recommend ruckstell rear-ends, excellent brakes, no fear of heights (as there are some long drops and no guard rail), and caution. That said, many of us have made the trip in T's to enjoy the view.
https://www.mtspokane.com/
Another popular attraction that we will be driving through later in the week, but not stopping at, is Riverside State Park. This is a pretty park with camping, a picnic area and hiking trails, but you don't have to hike very far to enjoy a walk on the suspension bridge over the river with its view of the rock formation known as the Bowl and Pitcher.

And there are a couple of more places on the list below...
JULY 10-12 THE 50TH ANNUAL SWAP MEET AT THE SPOKANE FAIRGROUNDS
This promises to be a big event this year as the Early Ford V8 Club celebrates 50 years of hosting this combined swap meet and car show. For more information:
https://www.earlyfordv8ie.org/swap-meet
JULY 14-15 MOZART ON A SUMMER'S EVE
A Northwest BachFest outdoor concert set in beautiful Manito Park. Bring a picnic dinner and sit on the grass or reserve a table under the tent. For more information and to purchase tickets:
http://nwbachfest.com/calendar
JULY 15-17 SPOKANE INDIANS BASEBALL VS. THE VANCOUVER CANADIANS
The Spokane Indians are a Class A Affiliate of the Texas Rangers, and the Canadians of the Toronto Bluejays. July 15th is Family Feast Night and July 17th is Storybook Princess and Fireworks Night. For more information and to purchase tickets:
https://www.milb.com/spokane
JULY 16 INLAND NORTHWEST CAR CLUB COUNCIL DOWNTOWN CAR SHOW
Every July the INCCC takes over Riverside Avenue and puts 500 classic cars on display to raise money for their scholarship fund and to award scholarships to this year's recipients. You can come see the show, or for $10 enter your car as there is no need to pre-register. For more information:

JULY 17-19 COEUR D'ALENE SUMMER THEATRE PRESENTS
SEVEN BRIDES FOR SEVEN BROTHERS
"Saddle up for a joyride in this tale of stubborn men and cunning women." For more information and to purchase tickets:
http://www.cdasummertheatre.com/
JULY 18 SOUTH PERRY STREET FAIR
The South Perry District is one of the oldest neighborhoods in Spokane and in recent years its revitalization efforts have created a pedestrian-friendly neighborhood with great new restaurants and shops. The annual Street Fair is their celebration of summer--with vendors, two stages for live entertainment, food trucks, and activities for the whole family. For more information:
http://southperry.org/
JULY 23-25 SPOKANE INDIANS BASEBALL VS. THE EVERETT AQUASOX
The Aquasox are a Class A Affiliate of the Seattle Mariners. On July 24th & 25th there will be fireworks after the game. For more information and to purchase tickets:
https://www.milb.com/spokane
JULY 24-26 JULYAMSH POWWOW AT THE COEUR D'ALENE CASINO IN WORLEY, IDAHO
Native American dancers, drummers, food, arts & crafts. We will have more information about this event later.
JULY 25-26 PRIEST RIVER TIMBER DAYS IN PRIEST RIVER, IDAHO
A pancake breakfast, parade, crafts, food, car show and a logging competition that includes: Double Buck, Log Walk, Pole Climb, Log Burling, Axe Throw, an Stock Saw events. We will have more information about Timber Days later.
JULY 26 SUNDAY BRUNCH
We have a busy day of touring on Sunday, July 19, but if you stay an extra few days, we have some wonderful Sunday Brunch Options:
In Spokane:
The Historic Davenport Hotel Sunday Brunch Buffet:
www.davenporthotelcollection.com
The Yards Bruncheon in Kendall Yards:
www.theyardsbruncheon.com
In Coeur d'Alene:
Lake Coeur d'Alene Sunday Brunch Cruise:
www.cdacruises.com
Dockside Restaurant:
www.docksidecda.com
OR, YOU MAY WANT TO TAKE TIME TO SEE AREAS THAT ARE JUST OUT OF REACH OF OUR TOUR (AND MAY REQUIRE HIGHWAY-SPEED TRAVEL)...
80 MILES NORTHEAST... SANDPOINT ON LAKE PEND OREILLE
There is something for everyone in Sandpoint...a City Beach, a Cruise on Lake Pend Oreille, restaurants, shopping, scenic drives through the Pend Oreille Valley, fishing, hiking...you get the idea. For more information:
https://visitsandpoint.com/
60 MILES EAST... FARRAGUT STATE PARK ON LAKE PEND OREILLE
This park offers recreation–-a picnic area, fishing, hiking, and more-–plus history: It was the location of Farragut Naval Training Station and a German Prisoner of War Camp in World War II. This history is preserved in the Museum at the Brig. For more information:
https://parksandrecreation.idaho.gov/parks/farragut
89 MILES EAST... HISTORIC WALLACE, IDAHO
Being in Wallace will take you back to the days when silver mines were making millionaires and Northern Idaho earned the name The Silver Valley. Take a trip underground on a Sierra Silver Mine Tour, or pick a museum: the Wallace District Mining Museum, the old Northern Pacific Depot, or maybe the Oasis Bordello Museum? For more information:
http://www.wallaceidahochamber.com/
60 MILES SOUTH... STEPTOE BUTTE AND STEPTOE BATTLEFIELD
If you take the scenic route, the distance is more than 60 miles, but you can't miss the Butte, suddenly rising 3,612 feet above the rolling fields of the Palouse, the richest wheat-producing land in the world. If you choose to try this hill-climb in your Model T, we would highly recommend a ruckstell rear-end, excellent brakes, and caution–-it is a steep, twisting climb to the amazing view at the top.
Steptoe Battlefield is a park in Rosalia commemorating the 1858 battle between U.S. Army forces under Colonel Edward Steptoe and several Eastern Washington Native American tribes.
These are both Washington State Parks that require a Discover Pass for entry. For more information:
https://parks.state.wa.us/
80 MILES WEST... GRAND COULEE DAM
Located at a place where floods at the end of the last Ice Age carved out a large valley known as a coulee, Grand Coulee Dam is the largest dam on the Columbia River, and one of the largest anywhere. Plan your visit to stay after dark–-the laser light show on the surface of the dam
One River, Many Voices
is well worth the trip. For more information:
https://www.usbr.gov/pn/grandcoulee/visit/
100 MILES SOUTHWEST... PALOUSE FALLS
As you're driving through the high desert scablands, you think there couldn't possibly be water out here. And if you're driving a T, fill up your tank because, yes, we have coasted into the gas station at Washtucna. And then all of a sudden there's a green park and a 200-foot waterfall and amazing scenery posing for a picture. A Discover Pass is required at this Washington State Park. For more information:
https://parks.state.wa.us/559/Palouse-Falls
OR, SPEND SOME TIME IN SPOKANE NEIGHBORHOODS THAT THERE WILL BE LIMITED TIME TO SEE...MORE SUGGESTIONS FOR LOCAL EXPLORATION COMING SOON!
IF YOU HAVE ANY QUESTIONS PLEASE DON'T HESITATE TO CONTACT US:
iemodeltclub@yahoo.com