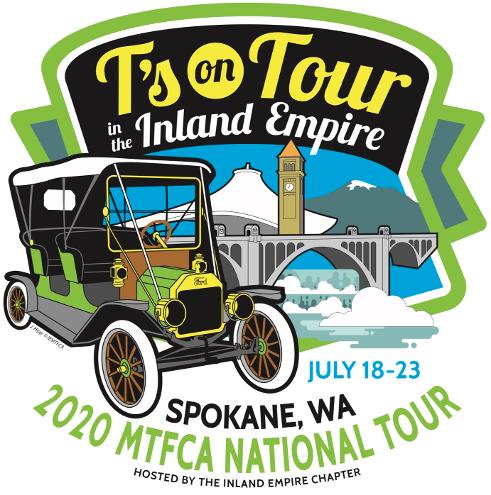 New information posted Tuesday, January 7th...

REGISTRATION IS NOW OPEN FOR THE 2020 NATIONAL TOUR!
We are making every effort to get confirmations out by email (or mail if no email address is provided) within 24 hours of receiving your registration. If you believe we should have your registration, but have not received a confirmation, please let us know by
CLICKING HERE
to send an email or calling Janice Hutchinson at (509) 448-2819.
We are sending the Safety Inspection Forms and Release Form with your confirmation, but these forms must be signed at the registration desk when you pick up your tour packets. You must also provide us with proof of insurance at that time.

If you choose to arrive on Friday, July 17th, you may pick up your tour packets from 3 p.m. - 7 p.m. that day and have all day on our scheduled Registration Day--Saturday, July 18th--to explore places around Spokane that we just don't have time to include on the tour. We will be posting some great suggestions on this page soon! On Saturday, you may pick up your tour packets from 10 a.m. - 5 p.m.

Keep checking back! We will be posting new information about the tour throughout the winter and spring months.
If you would like to be added to our e-mail list to receive the latest information,
CLICK HERE
to let us know.
YOU MAY PRINT THESE FORMS:

CLICK HERE
FOR A PRINTABLE COPY OF THE TOUR OVERVIEW
CLICK HERE
FOR A PRINTABLE COPY OF THE REGISTRATION FORM
CLICK HERE
FOR A PRINTABLE COPY OF THE SAFETY INSPECTION FORM AND RELEASE