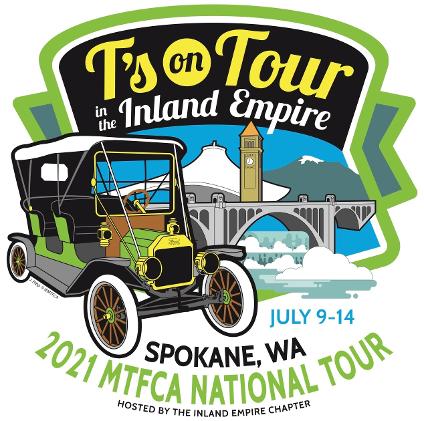 REGISTRATION IS NOW OPEN

for the 2021 MTFCA National Tour!

Thank you to everyone who has already registered!
We still have plenty of room for you to join us!

Tour Schedule

Early Check-In: Thursday, July 8th, 3-7 p.m.

Check-In Day: Friday, July 9th, starting at 10 a.m.

Tours: Saturday, July 10th thru Wednesday, July 14th
Banquet: Wednesday, July 14th, 6 p.m.

If you would like to be added to our e-mail list,

If you registered for the 2020 Tour,
you are already included on the email list.

The latest news as of Wednesday, January 20th:
If you contact Northern Quest for room reservations using a number other than the one on the registration form, you may reach a booking agent who does not have access to the rooms blocked off for us. This came to our attention because someone tried to make reservations for the week and was told the hotel was full on July 12th, but this information does not apply to our block of rooms. THERE IS STILL PLENTY OF ROOM FOR YOU! Be sure to use the contact information below for Northern Quest. If you have any problems making a reservation at Northern Quest, please contact Janice Hutchinson or Matt Hansen.

Northern Quest reservation number is 877-871-6772, Group Booking ID 24747
Janice Hutchinson
T's On Tour in the Inland Empire Registration
(509) 448-2819
Matt Hansen

T's On Tour in the Inland Empire Chairman
(509) 998-9927
The latest news as of Tuesday, January 5th:
If you haven't registered for the tour yet, we do still have plenty of room for you! We were able to open registration before January 1st because Northern Quest is large venue, and many people did register early, but you won't be left out. We want everyone to be able to enjoy the 2021 National Tour, especially since no one was able to enjoy a 2020 tour!

If you have registered for the tour, and have not received a Registration Confirmation and Receipt in your email, please let me know and I will get one out to you. (Please be patient with the Post Office--it has been taking several days for mail to reach me. The most recent registrations that I have received were postmarked December 30th.)

Since we won't be able to hit all of the sites worth seeing in the Inland Empire during our tour, we were hoping to begin providing information about things you might want to do on your own while in the Spokane area. Maybe you would want to come a little earlier, or stay a little longer. Unfortunately, the pandemic has things rather up in the air right now, but watch this space. Within the next month or so we will begin to post information about things to see and do while you're here.

If I can answer any questions for you about the tour, please don't hesitate to get in touch with me!

Janice Hutchinson
Registration

_______________________________________________________________________________________________________________

Information about registering for our tour:
Registration for the 2021 MTFCA National Tour next July is officially open!


Unfortunately, with so many unknowns right now, we were forced to increase the fee for the car & driver to $200. The passenger fees and the cost of t-shirts and hats will remain the same with one exception: We are now offering youth sizes in t-shirts for $12 each. If you would like to purchase a child's t-shirt, please indicate the size on the registration form or send me an email.

If you asked us to keep your fees from the 2020 tour, you are already registered for 2021 and you should have received a confirmation email. If there are no changes to your registration information, you do not need to complete the 2021 Registration Form.

Even if you are registered for the tour already, you will need to make new room reservations. Northern Quest Resort is now accepting reservations at the same rates that we had for 2020. Call 877-871-6772 and refer to Group ID 24747 to get the $149 per night rate.

If you have any questions, please don't hesitate to contact me.

More than ever, we are REALLY looking forward to seeing everyone next July!


If you would like to print a copy of the 2021 Registration Form,
CLICK HERE
If you would like to print a copy of the 2021 Tour Overview below,
CLICK HERE