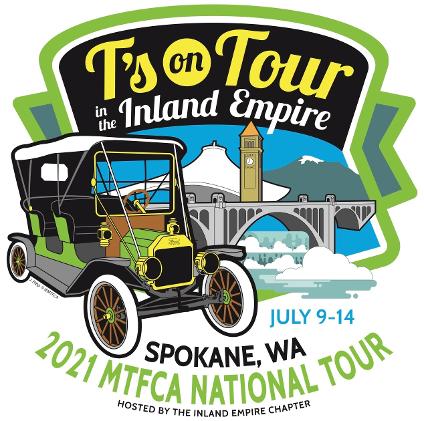 REGISTRATION IS NOW OPEN

for the 2021 MTFCA National Tour!

Early Registration
Thursday, July 8th

Registration
Friday, July 9th

Tours
Saturday, July 10th
through
Wednesday, July 14th
Banquet
Wednesday, July 14th

If you would like to be added to our e-mail list,

If you registered for the 2020 Tour,
you are already included on the email list.

Registration for the 2021 MTFCA National Tour next July is officially open!


Unfortunately, with so many unknowns right now, we were forced to increase the fee for the car & driver to $200. The passenger fees and the cost of t-shirts and hats will remain the same with one exception: We are now offering youth sizes in t-shirts for $12 each. If you would like to purchase a child's t-shirt, please indicate the size on the registration form or send me an email.

If you asked us to keep your fees from the 2020 tour, you are already registered for 2021 and you should have received a confirmation email. If there are no changes to your registration information, you do not need to complete the 2021 Registration Form.

Even if you are registered for the tour already, you will need to make new room reservations. Northern Quest Resort is now accepting reservations at the same rates that we had for 2020. Call 877-871-6772 and refer to Group ID 24747 to get the $149 per night rate.

If you have any questions, please don't hesitate to contact me.

More than ever, we are REALLY looking forward to seeing everyone next July!


Janice Hutchinson
Registration
If you would like to print a copy of the 2021 Registration Form,
CLICK HERE
If you would like to print a copy of the 2021 Tour Overview below,
CLICK HERE